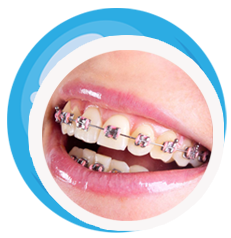 Traditional Metal Braces
Traditional metal braces are the most common type of braces and are more comfortable today than ever before. Made of high-grade stainless steel, metal braces straighten your teeth using metal brackets and archwires. With metal braces, you have the option of adding colored elastics (color ties) for a more unique and personal experience with a splash of color, making your orthodontic treatment just a little more fun.
Traditional metal braces are extremely durable, and have been shown to be an effective option for straightening teeth for generations and for people of any age. While the process for applying braces remains much the same today as it was in the past, patients now experience greater comfort with even better results thanks to evolving technology. Traditional braces are the first option most people consider when they want to straighten their teeth and improve their smile. Patients are typically seen by their orthodontist every 8-10 weeks to check on their progress and adjust the braces as needed. It's easy to see noticeable improvement quickly!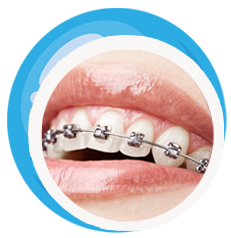 Self-Ligating Braces (Speed Braces)
Self-ligating braces are made from the same materials as metal braces. However, self-ligating braces do not require the use of "color ties", meaning fewer appointments and less friction being placed on the tooth. They are 1/3 smaller in size than traditional metal braces and use a specialized clip in place of elastics to help the archwire guide teeth into place. The clip helps reduce the amount of pressure being placed on the tooth, and requires fewer adjustments because there are no elastics to replace.
With fewer adjustments, also come fewer office visits. This can save you from taking extra time out of your busy life for office visits. Speed braces come with less discomfort than traditional braces, because the force used to correct teeth is much gentler. Self-ligating braces are less noticeable than traditional braces, and impede movement within the mouth much less. It's no wonder that these are quickly becoming a popular option!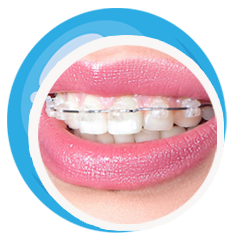 Clear (Ceramic) Braces
Ceramic braces are made of clear materials and are therefore less visible on your teeth than metal braces. For this reason, ceramic braces are used mainly on older teenagers and adult patients who have cosmetic concerns. While they are visually less prominent, they do require more attention to oral hygiene as ceramic braces are larger and are more brittle than their metal counterparts. For these reasons, ceramic braces are only used on upper teeth. While ceramic braces take slightly longer to correct tooth alignment than metal braces, it also takes much less time than straightening teeth with clear aligners, so it's great for people that want results without obvious metal braces. Ceramic braces do allow professionals and busy adults to go about their lives without noticeable braces, and at a quicker pace than with clear aligners. Of course, teens like these braces too, since they stay clean, are easy to wear, and aren't as noticeable as metal braces.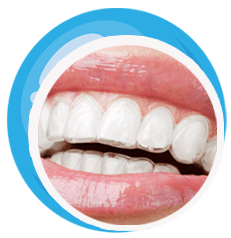 CLEARLY MODERN ALIGNER
Clearly Modern Aligners is a safe, effective, and surprisingly affordable way to straighten your teeth. Dr. Wong can give you the smile you've always wanted! Using the latest in 3D printing technology and Dr. Wong's expertise, we can now create your custom treatment plan and print your clear aligners in office! Stop in today and see how 3D printing comes to life! Dr. Wong urges you to be fully educated when it comes to clear aligner treatment and the process to straighten teeth. He doesn't want you to be fooled by the "no office visits, mailed to your home aligner" companies. This is not a safe option to align your teeth and without an orthodontist to evaluate and monitor your treatment, this may cause permanent damage to your teeth with a lifetime of complications.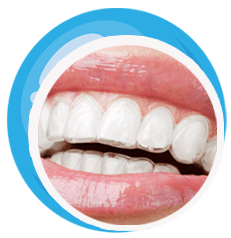 Clear Aligners (Invisalign)
Clear aligners, traditionally known as Invisalign, are a series of invisible, removable, and comfortable acrylic trays that straighten your teeth like braces. Not only are the aligners invisible, they are removable, so you can eat and drink what you want while in treatment, plus brushing and flossing are less of a hassle. Maintaining dental hygiene can be one of the hardest parts about using braces to straighten your teeth. Because clear aligners have a removable design, you don't have to worry about doing anything outside of your regular brushing and flossing routine. Since you can remove these aligners too, they're perfect for maintaining the health of your teeth, and mean that they'll feel good compared to some tighter braces that cause more friction.
The aligners are our most aesthetic and comfortable option and have no metal to cause mouth abrasions during treatment. This is important for anyone that gets a lot of sores, or that deals with dental conditions. Clear aligners are a great option for people that have sensitive mouths and would otherwise experience irritation with traditional braces, but with these, you can still maintain good dental health. By using 3D scans, a precise model of your current smile is made, and you can see how the clear aligners will correct your teeth. Aligners are designed specifically to meet your smile goals, without any noticeable brackets on your teeth while they work. Because clear aligners are so versatile, removable, and virtually unnoticeable, they're a popular option among adults and teens. It is recommended these aligners are worn 22-24 hours per day.
Patients often start noticing straighter smiles with this technology within a matter of weeks, although these generally do take a longer time to get your teeth fully straight. Some clear aligner treatments are completed within six months, allowing you to get back to your life, with a brand new smile.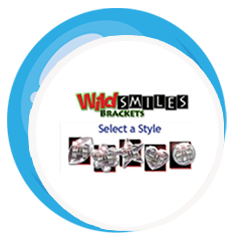 WildSmiles
The only brackets that turn correction into expression. Wild Smiles brackets are made from quality stainless steel. They also can incorporate color elastic ties for added individuality. The patented designs can be mixed and matched to give everyone a truly unique smile.
For generations braces have been a thing to dread among children and adults alike. With new dental technology, braces can now be another way to show off your personality, and your soon to be straight smile. Want to show your team spirit? Choose your enthusiasm by picking out your team's colors. Let everyone know you're on the home team by getting your school colors on your WildSmiles braces. Children and teens love the personality in each bracket.
Did you know that WildSmiles braces also let you choose the shape of your brackets? Choose your favorite colors, and then decide which of six shapes you want to showcase your colors. With WildSmiles braces, your personality is on show, not just your braces. Braces don't have to be boring with WildSmiles.