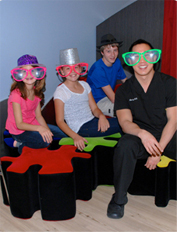 Welcome to Modern Orthodontics, where Dr. Alan Wong and our team offer personalized, professional orthodontic treatments, based on your unique needs. We believe in treating each patient with respect and compassion, developing friendships while we work with you to create your beautiful new smile.
Dr. Wong has designed our fully customized, state-of-the-art facility with your comfort in mind. In fact, we offer iPads to use while you're here! We want you to feel welcome while with us; if there's ever anything we can do to make your visit an even better experience, please let us know.
When you first call to make your complimentary consultation, you'll speak with a knowledgeable team member who will not only be able to schedule your consultation, but will answer your initial questions about orthodontic treatment. All members of our team are highly trained professionals and are knowledgeable about the orthodontic process.
Upon arrival for your consultation, you'll be greeted by name and invited to make yourself comfortable in our reception area, which offers a refreshment area where you can brew a fresh cup of coffee or help yourself to ice cold water and snacks.
Because we run on time and never overbook patients, your wait time will be minimal and you'll soon be in our treatment area, where you'll have free X-rays and an exam so Dr. Wong can determine your specific clinical treatment needs. He'll spend time talking with you about what's needed to straighten your teeth and the different options available to make those changes. Here, we believe that patients should know their options and be an active participant in deciding what treatments they're most comfortable with pursuing. We won't pressure you into a specific treatment, but will give you the information you need to make an educated decision.
Once orthodontic treatment has begun, we'll always be here for you. Should you have an after-hours emergency, Dr. Wong is on call and available to help you, including overnight and on weekends. Should you ever have concerns about your treatment progress, we're glad to talk things over with you and evaluate what's going on. We'll always update you, and parents of our young patients, about the progress being made.
The day treatment is finished, your braces are removed, and you'll see your stunning new smile for the first time! We'll be celebrating with you! Orthodontics takes hard work and commitment on your part and we're so happy for you. We know that smile is going to make your life better. Not only will you have a great bite, which improves your overall health, but your self-confidence and self-esteem are going to be transformed. We're honored to be a part of that process.

Modern Orthodontics has three locations, service all of Western Orlando in Clermont, Apopka, and Bushnell, FL
Please call today for more information and to schedule your complimentary consultation!
Our team looks forward to starting you on the path to excellent oral health and beautiful teeth for a lifetime of wonderful smiles.