August 8, 2022
Posted by:

admin

Category:

Modern Aligners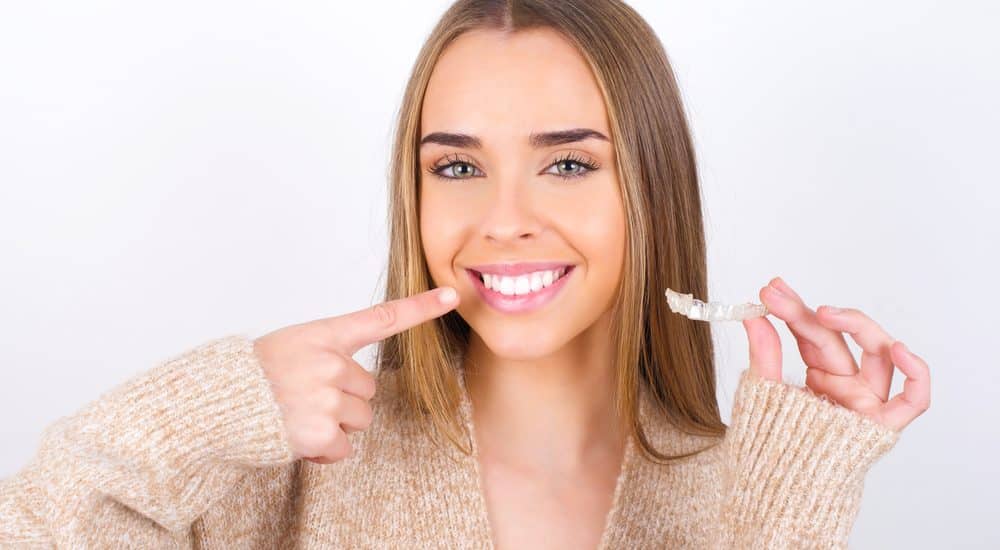 Having a beautiful, straight smile isn't about vanity. If your teeth are crooked, you're much more likely to get food stuck between them and develop cavities. Straight teeth are simply easier to clean and take care of.
Recently, there have been more DIY teeth straightening ads on TV trying to reach people who want to achieve a brighter, straighter smile. As expected, these TV ads are often based on the premise of a lower cost and greater convenience of doing it yourself from home. However, should you try these DIY solutions? What are the differences between professionally made clear aligners and DIY solutions?
Find out more about Clearly Modern aligners
Clear Aligners versus DIY Solutions
First off, you should know that there are many differences between clear aligners and DIY solutions, from the modeling process to the way they help your teeth.
With DIY solutions, you do everything at home. There's no official diagnosis, and you're on your own when it comes to changing the aligners, how they need to be changed, and when to wear them. You won't have a professional to guide you and answer your questions or ensure that the aligners are doing what they should.
DIY solutions come with an at-home mold that you use to build the aligners yourself. After biting into the mold, you send it back so that the aligners can be made in a factory. Once you receive your aligners in the mail, it's up to you to track your progress and symptoms. If you have any problems, your only resource is a phone hotline.
With clear aligners, you'll have the help of a professional orthodontist throughout the process. You'll receive an official diagnosis and a treatment plan with milestones to meet your goals. When it comes time to switch out your aligners, your orthodontist will have the next set of aligners prepared for you and will let you know how long to wear them and when.
Clear aligners also use a mold that you bite into. However, professional clear aligners are built by hand and from high-quality materials. During the course of your treatment, you'll have expert support and a professional to track your progress. 
If you experience a problem with clear aligners, you can always contact your dentist for an appointment. You'll receive prompt, in-person care with your dentist to evaluate the issue and determine how to proceed.
During the course of your treatment with clear aligners, you will always have a professional to help you. If you encounter any problems or have questions, they'll be able to provide answers that are unique to you and your goals. Unlike DIY solutions, you'll have a professional support system the entire time.
What Are the Risks of DIY Solutions?
DIY solutions are risky. If anything goes wrong, your only source of information or support is a hotline. The people that answer it will likely not be orthodontic professionals and cannot accurately respond to your questions or concerns. To them, you are just a shopper who has bought their product. You are not a patient to them, and the duty of care towards you is simply not there.
When you move your teeth without the right knowledge and experience, there is a lot that can go wrong. You'll likely experience pain and discomfort, but without a professional to help you along the way, you won't know whether the pain is normal or not. In some cases, incorrectly fitting aligners can lead to permanent damage.
Conclusion
Orthodontic care can seem expensive, but it's critical that you only work with trusted professionals like us so that you get the results you want and don't endanger your health. When you attempt DIY solutions, there's a high risk that something can go wrong. In a best-case scenario, the product doesn't work, and your money was wasted. In a worst-case scenario, though, you could sustain permanent damage to your teeth and mouth.
At Modern Orthodontics, we prioritize your safety and health. It's our goal to work with you closely and monitor your progress on your orthodontic journey. We are here to ensure that your teeth are being straightened the correct way. Don't rush into cheaper but risky DIY solutions, and call us today to spare yourself any harmful effects on your teeth.